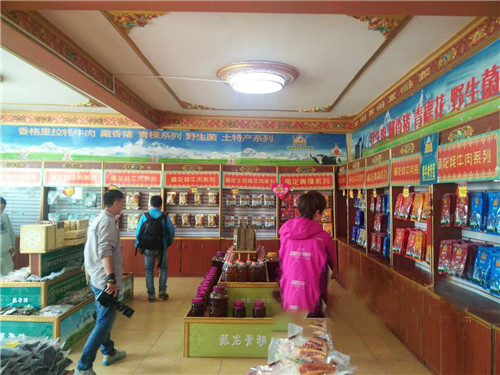 "The products here are of high quality," said a lady tourist surnamed Wang at a product-showcasing store of the Tibetan Dragon Bioengineering Development Company in northwest Yunnan's Shangri-La City on August 17.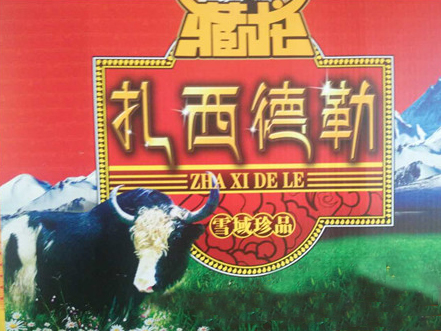 Wang came from Kunming, and she was buying some instant yak meat as a gift to her friends and family when she returns home.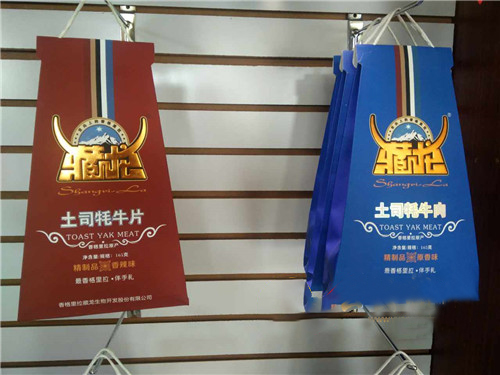 "Our products boast the Agro-Product Geographical Indications
authorized by the PRC Ministry of Agriculture," said Ms. Tang, marketing director of the Tibetan food company.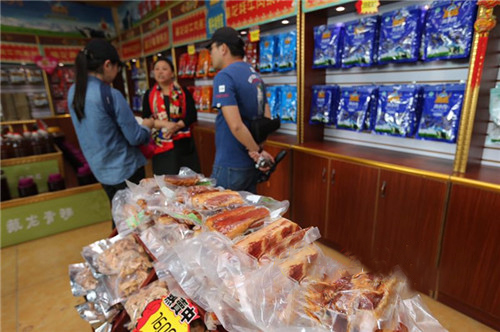 Tang added that their food quality has been recognized by Yunnan inspected and quarantine authorities at the customs. And the "Toast Yak Meat" is the bestseller, which has been exported to America and European countries.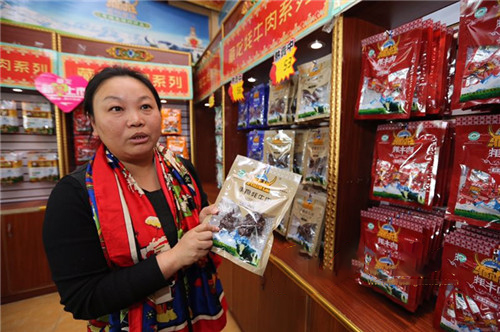 Tang said the Shangri-La yak meat is highly nutritious because the high elevation and rich biodiversity in the three-parallel-rivers area provide yaks with rich food.
Besides yak meat, the company also process highland barley, pork, wild mushrooms. All are instant foods designed for tourists.
"We are happy to see that our daily sales in the store has exceeded 20,000 yuan," said Zhao, a new staff at the store, adding that her monthly payment is 3,000-4,000 yunan plus job-skill training.
Zhao just graduated from the West Yunnan College in Lincang City, and she returned her home Shangri-La to get employed.
"Our company has joined hands with local farmers to feed the yaks because traditional husbandry of yaks in the fields yields better meat," said Chen Shuhe, board director of the Tibetan Dragon company.
Chen said his "company plus farmer" mode has also increased local villagers' income.

Feeding a yak can brings locals around 10,000 yuan annually. What's more, they can milk for extra income.

A household can feed as many as 200 yaks.
"I want to contribute even more to the society if the company continues to thrive." Chen said his company also trains local kids in Thangka painting and Tibetan pottery.
Founded in 2000, the Tibetan Dragon company has developed around 120 convenient food varieties, of which the highland barley flower and Shangri-La mushroom has been regularly ordered by China Eastern Airlines and some airports.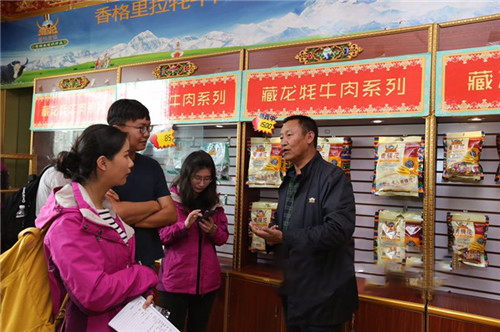 "While jointly developing yak fur, leather and bone products with a British university, we also cooperate with travel agencies in neighbouring provinces to do a bio-cultural rural tourism project, so that tourists can experience traditional Tibetan culture in a more relaxed surrounding," said Chen Shuhe.
Reporting Shangri-La in by Eric Wang