Rain ceased and a rainbow appeared. In a small rural yard, gongs and drums sounded and six performers moved to the yard center, dancing to the beat and waving yellow banners.
They simply took the yard as stage, but their performances were impressive. "Can you hear me, my dear brother Yue? On behalf of you, I recruit soldiers for revenge," sang the actors. "Warrior Niu Gao, you shall retreat quickly; you can never stain my loyalty."
Such typical Han choruses in Dacixi Opera were actually sung in a mountainous village in northwest Yunnan's Weixi Lisu Autonomous County. This is kind of paradoxical for the area is better known for the Lisu culture.
In Weixi, the Dacixi (big-word) opera is indeed a unique existence. It dates back to the Qing Dynasty, when Jiangxi native Liu Chaoji created the opera, fusing Weixi's cultural elements into the traditional Han culture. Liu moved to Weixi from southeast China's Jiangxi Province.
Compared with aboriginal ethnic songs and dances, the opera is quieter and more implicative. Among 300 plus Chinese operas, the Dacixi opera in Weixi is seen as unique, and it is like an intact living fossil of opera history.
Zhao Yanzu, aged 80, was sitting in front of the gongs and drums during the performances. Dressed in a suit and looking serious, Zhao is the 7th-generation inheritor of Dacixi Opera at the provincial level.
"It is not easy for a Han-featured opera to be listed as a cultural heritage in ethnic minority areas," said Zhao with pride. "And we should make the opera unique among Weixi arts."
Dacixi has a history of 280 years. The opera is similar to Sichuan Opera, featuring a lead singer and coupled with gongs and drums. Few string and pipe instruments are employed.
However, the utterances and singings are all in the Weixi local dialect. For visitors from afar, they may not understand the words, yet the air of the Han culture can be easily sensed.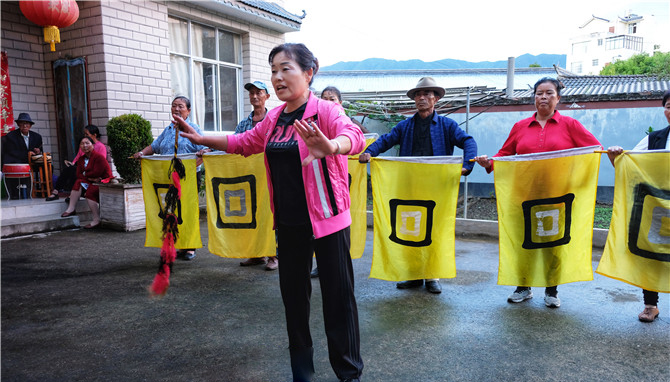 Zhao Yanzu began to study Dacixi at five, from his maternal grandfather Li Shangwen, who was the sixth inheritor of the opera. He developed strong affection to the art.
After growing up, Zhao became a tailor, but his monotonous days of needlework was constantly decorated by the opera tunes, cheering him up and enlivening his life.
Practice makes perfect. In 2007, Zhao Yanzu was recognized as inheritor and representative of the Weixi opera. "After the recognition, I gained more confidence in performing and teaching others," said Zhao.
Now, Zhao has 38 students, involving the Han, Lisu and Naxi peoples from varied fields of walks. Their ages range from 30 to 60, and they are retired civil servants, local farmers and migrant workers.
"I like Dacixi a lot, and I've been studying the opera from my father for 10 years," said Zhao Guixiang, daughter of Zhao Yanzu. By now, Guixiang has learned nearly 30 singing styles in 13 tunes.
Other learners of Dacixi also shared ideas on the art: "I've studied the opera for 4 years, and I visit master Zhao every day. Now, I know the basics." "I come to the yard to learn to play drums and gongs." "It's a bit difficult at first, but I gradually fell in love with the art."
Zhao Yanzu listened to his disciples attentively, smiling and instructing them from time to time. "The opera is original and particular to Weixi County, so people from other regions would have difficulty in learning local dialect in songs."
In the end, Zhao spoke highly of his students' attainment in the opera, adding Dacixi is also an all-round art that encompasses singing, drum and gong playing, makeup and costume design. 
"Mr. Zhao, is it hard to pass down the Dacixi opera since it's difficult to learn?" asked one visitor. "Yes, very hard! But we need to do it anyway," replied Zhao.
To keep up with times, Zhao Yanzu has written some novel plays in the past few years. His new works focus on harmony, amity, peace, honest and social order.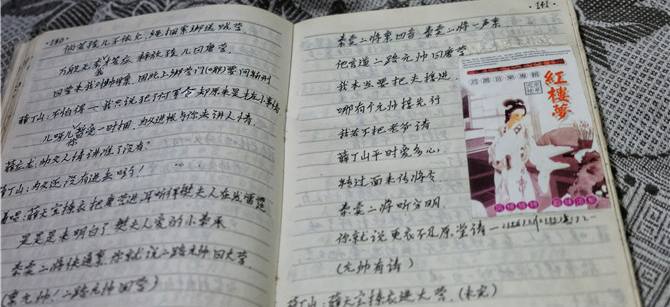 "We are trying to make the traditional and new tunes known to more audiences," said Zhao Guangxi, adding the 38-member Weixi team has performed in Beijing and Guangxi in recent years.
On the World Heritage Day this year, the team also staged the opera in a local secondary school, making a hit at the campus. The Weixi cultural authority has collected all the Dacixi tunes and lyrics for a due CD version.
"I am fully optimistic about the Dacixi inheritance either for official care or for students' love." Zhao Yanzu has confident in the art's future.
Reporting by Xiong Yan, Chu Donghua, Zhang Ruogu and Li Wenjun; trans-editing by Wang Shixue